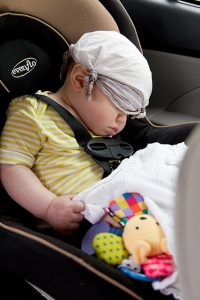 It's no secret that car accidents are one of the leading causes of death in children. Every 25 seconds, a child is involved in a car crash while riding as a passenger. Every day, around 500 children get injured in car accidents in the United States. However, when car seats are installed correctly, they can reduce the risk of fatal injury by 71% for infants and 54% for toddlers.
That's why it's so important to make sure your child is as safe as possible when traveling in a car. One way to do this is by using a child car seat. But with so many different types and brands on the market, it can be hard to know which one is right for your child. In this blog post, West Palm Beach Personal Injury Lawyer, Rp Foley, will discuss the different types of child car seats and what the Florida law says about keeping your children safe while in an automobile.
There are three main types of child car seats: rear-facing, forward-facing, and booster seats. Each type has its own set of safety features and is designed for a different age group.
Rear-facing car seats are the safest option for young children. They should be used until your child reaches the maximum weight or height limit for the seat. Forward-facing car seats are designed for older children who have outgrown their rear-facing seat. Booster seats are for children who have outgrown their forward-facing seat but are still too small to use a seat belt alone.
When choosing a car seat, you should also consider the following factors:
The type of vehicle you have
Your child's age, height, and weight
Your budget (buy the best you can)
No matter what type of car seat you choose, always make sure to follow the manufacturer's instructions for proper installation and use. And never leave your child unattended in a car, even for a moment. By taking these precautions, you can help keep your child safe on the road.
When shopping for the best car seat for your child, the personal injury lawyers at the Law Office of Roger P. Foley recommend that you read the following articles provided by the National Highway Traffic Safety Administration and Car and Driver Magazine. This is important information for parents and it is condensed and easy to read.

Florida Child Seat Belt Laws
In the state of Florida, there are specific laws in place regarding the use of child car seats. All children under the age of five must be properly secured in a federally approved child restraint device. This could be a rear-facing infant car seat, a forward-facing toddler car seat or a booster seat.
Florida statute section 316.613 is the authority regarding child car seat laws. The law requires the following:
Children aged from newborn to age three (3) must be in a separate car carrier ( Rear facing seat) or manufactured integrated seat.
Children aged four (4) years to six (6) shall be in a separate carrier device, an integrated child's seat, or a booster seat.
Children aged six (6 ) years old and older should continue to use the booster seat until they can safely use a regular seat belt.
Failure to follow the statutory guidelines could result in a traffic infraction and points on your license. More importantly, it can result in serious bodily injury or death if your child is not properly secured in a child protection seat when an accident occurs. It is up to you to read the instructions on whatever seat you choose for your child. The statute discusses ages but doesn't address height and weight considerations. You should read the manufacturer's instructions and height and weight limits to determine if the car seat you have is appropriate for your child's size. If you're not sure which type of seat is right for your child, you can always consult with a certified Child Passenger Safety Technician (CPST). They will be able to help you choose the right seat and show you how to properly install it in your vehicle.
Top Eight Mistakes Parents Make When Using Child Safety Seat
Improperly Installed Seat: One of the most common mistakes is not reading the car seat's manual. Every car seat is different and it's important to understand how yours works before you attempt to install it or use it with your child. Not all seats fit in all vehicles, so make sure you check that too.
Chest Clip Position: Not having the clip/harness in the proper position can cause your child to be ejected from the seat in a crash or cause a neck injury if it's placed too high.
Tether Strap: Another mistake is not using the tether strap when installing a forward-facing car seat. The tether strap helps to keep the seat in place during a crash, so it's an important safety feature.
Wrong Size seat: Each child seat is designed to protect children of a certain height and weight. This is not a situation where he/she will grow into it or we will make do with what we have now.
Improperly Securing Your Child: Failing to properly secure your child in the car seat is another mistake. The harness needs to be tight enough that your child can't wiggle out of it, but not so tight that it's uncomfortable. You also need to make sure the chest clip is at armpit level.
Second Hand Car Seats: Importantly child car seats have expiration dates, if you go used, check with the manufacturer for instructions and any recalls. If you do use a second-hand seat, make sure you get it from a reliable source and that it comes with all the necessary parts.
Turning the Seat: It's understandable that children cry when in the car. They want to see everything. Generally, until age 4 should be in a rear facing car seat for their own protection unless their height and weight are outside the norm. Turning the seat to a forward facing position too early can cause devastating injuries.
Loose Objects: Finally, don't put anything else in the car seat with your child. This includes blankets, stuffed animals, and toys. These can all interfere with the proper functioning of the car seat and increase the risk of injury to your child in an accident. Additionally, in an auto collision these items become projectiles that may cause harm to the child.